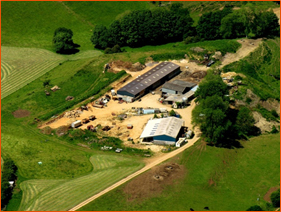 The first field trip from home in our Dig Deeper series comes to us thanks to geology expert and Rockwatch friend, Dr Robert Chandler.
Well known for his knowledge of the West Country, Robert shares many stories about a geologically significant site called Coombe Quarry. In fact, Rockwatchers may well have met Robert on previous field trips to this very quarry!
This trip takes readers right back to the Jurassic Period, though uniquely, the area actually straddles 3 geological periods – Jurassic and Cretaceous periods and the Caenozoic Era. Robert also shares the area's historical links with the bubonic plague, which feels somewhat familiar in these Covid-19 times.
You'll learn oodles about oolites – the type of rock particles found there and the sorts of Ammonite and mollusc fossils you can encounter too including a brand-new species discovered by Robert, which he has aptly named after the owner of the quarry!
What are you waiting for? Mapperton's Coombe Quarry awaits you.
Download Geology, Fossils and Mapperton by Dr Robert Chandler