Meet the Team
Meet the Rockwatch Management Team – a group of diverse, professionally qualified geologists and other experienced amateurs.
Watch the slideshow, drag the slider or click on the page icons to see more.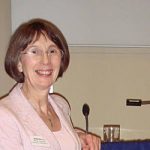 Susan Brown
Rockwatch Chair
---
When I was a little girl my grandfather, who was a hydrologist and an amateur geologist, used to tell me stories about dinosaurs and share his fossil finds with me. He taught me how to look at fossils and rocks using his special hand lens – a great treat! And my favourite 'picture' hanging in his dining room was a large geological map of the British Isles. He died, I moved on to other interests but when my own children were little my geology interest resurfaced.
I did a couple of geology diplomas to see if I wanted to go further. I did! I then did a couple of degrees, got a geology related job and some years later had the chance to run Rockwatch. This was the perfect opportunity to share my passion and enthusiasm for geology with children and their parents. My work with Rockwatch has been great fun, an enormous privilege and I love it.
Finally, of all the rocks, fossils and minerals I've been lucky enough to come across perhaps my favourites are ophiolites (especially those in Oman), garnet mica schists and tiny pentacrinites.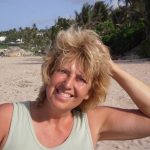 Geraldine Marshall
Rockwatch Co-ordinator
---
My background is economics and journalism so Rockwatch can only be described as a late found passion.
I have four children, all of who, when young, liked scrabbling around on beaches hunting for fossils, which I believe does qualifies me for being part of the team!
I strongly believe in getting children out and about – fresh air and exercise – and Rockwatch is perfect for that. The club has also succeeded in making me look at the world differently. From being a complete novice I am now able to identify various rock formations. I can talk fossils and sinkholes (but not as well as most young Rockwatchers!), and I love trying to identify the stone used in buildings – and seeing if there are any fossils in them! My favourite fossil is the ammonite – I love the way the perfect spiral is reflected in so much architecture.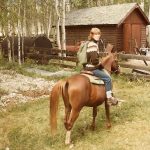 Susanna van Rose
Rockwatch Magazine Editor
---
I studied geology at St Andrews University, which was a wonderful opportunity to get to know Scotland's scenery and to contemplate its complex structure.  At that time plate tectonics had hardly entered geologists' thinking, so it was during the next decades, whilst on the staff at the Geological Museum in London's South Kensington that I looked for innovative ways to open up this novel concept to the public, through the Museum's new exhibitions and books.
I moved on following the merger of the Geological Museum into the Natural History Museum;  wrote three illustrated books about the Earth for Dorling Kindersley, and worked with Usborne Books. I was one of the team that brought Rockwatch club into existence in the early 1990s and have remained with the club as magazine editor throughout its history.
And my favourite geological 'thing' –  It has to be the mineral susannite.  It was first found in the Susanna vein in the Leadhills mining area of southern Scotland.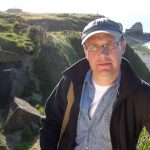 Peter Doyle
Rockwatch Magazine Editor
---
I started out collecting fossils in North Wales as a boy. With time my collection grew and so did my interest, and I was lucky enough to study geology at university before eventually going on to teach geology at university.
Geology has taken me to some amazing places and I love nothing more than to share my enthusiasm in this amazing subject.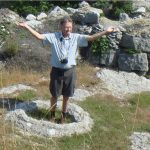 Alan Holiday
Rockwatch Management Committee
---
I graduated with a degree in geology and geography, trained to be a teacher and spent thirty seven years as a teacher of geography and geology in the Weymouth area. I also had a year in the oil industry as a mud logger. More recently I have been chairman of the Dorset Geologists' Association Group and Dorset's Important Geological Sites group (geological conservation).
In my 'spare time' I lead field trips for interested parties in Dorset and further afield and always  enjoy being one of the leaders at the Annual Rockwatch Residential Fieldtrip to Dorset – sharing my passion for geology with young Rockwatchers and their parents.
And my favourite fossil? Probably trilobites, and my favourite piece of rock is in this photograph.  It's  Wenlock Limestone with a trilobite pygidium collected at Ironbridge about 45 years ago!
Wendy Kirk
Rockwatch Management Committee
---
I have worked in the Earth Sciences Department (formerly the Geology Department) at University College London since 1976.  Originally I worked as Curator of the many thousands of specimens of rocks, minerals and fossils in the Geology collections, and spent a number of years teaching in the classroom and in the field, collecting a PhD on the way.
I have co-authored the Field Guide to Rocks and Minerals of the World, published by Kingfisher/Larousse, and worked from time to time with Dorling Kindersley, Thunder Bay Press, and Scholastic.  More recent interests have included the geology of gravestones.
In my spare time, apart from geologising, I play accordion for a folk/ceilidh band, and saxophone for the Camden Light Orchestra along with a bit of tap dancing!
Andrea Kaszewski
Rockwatch Management Committee
---
I became interested in geology from a young age with curiosity for the subject and the great outdoors fuelled by many fun family walks in the Yorkshire Dales and Peak District and by two wonderful teachers at high school.
I studied geology at the University of Edinburgh where I thoroughly enjoyed learning much more about geology and the many different disciplines within it from a great team of academics, as well as exploring world famous geological sites and natural wonders in Scotland and further afield and meeting many great lifelong friends.
Later, in London, I became a member of the Geologists' Association, attended monthly evening lectures and began volunteering with Rockwatch. I have many fond memories of helping Susan, Geraldine and other friends with Rockwatch activities in Lyme Regis and UCL and would recommend the club to anyone who has a young family member who is showing an interest in the natural world around them, from rocks to fossils and of course from dinosaurs to meteorites!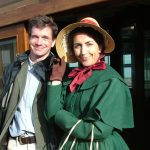 Jonathan Larwood
Rockwatch Management Committee
---
I could say I have geology in my blood; my father was a geologist and I have followed in his footsteps.
I studied geology in London, followed by Aberystwyth, which provided a world of geological contrast from the building stone trails, museums, and Crystal Palace dinosaurs of the city to the dramatic Palaeozoic cliffs and mountains of mid Wales.
I am a palaeontologist working with Natural England, a government organisation responsible for conserving some of England's most important geology.  That's when I met Mary Anning (see picture) when we celebrated the establishment of the Jurassic Coast World Heritage Site.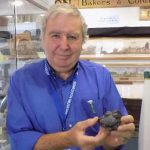 Roger Le Voir
Rockwatch Management Committee
---
I became interested in geology whilst at school and then, when living in Worcestershire, attended geology evening classes on the Malvern Hills. I went on to study with the Open University, concentrating on Earth Sciences, and after getting a degree worked as a part-time tutor for ten years.
Now I live in Devon and I am Sidmouth Museum's resident fossil expert and responsible for all things geological. In my photograph I am holding my favourite fossil – a rolled up trilobite from Morocco.
Michael Oates
Rockwatch Management Committee
---
I have been a rock and fossil enthusiast since primary school and followed this calling via batchelor and doctorate degrees in Geology from London University.
Employment as a geologist in the petroleum industry naturally followed as a new graduate and I thoroughly enjoyed this career, when no two days were alike and which enabled me to visit lots of unusual places worldwide, at someone else's expense.
In 2015 I became semi-retired, whereupon I established myself in a new house with huge museum potential and now spend most of my time sorting out my collection – some of which has not seen the light of day for 40 years or more!  I also arrange the Geologists' Association lecture programme each year, and have been involved with Rockwatch almost from the start – organising the occasional field excursion, and attending events to help out whenever possible.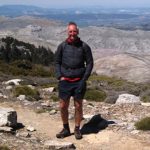 Seabury Salmon
Rockwatch Magazine Publisher
---
I spent years writing about nature conservation and wildlife and reporting on environmental projects in towns and cities.
While researching an article about The Lizard peninsula, Cornwall, I found the varied wildlife there was directly related to the soil and rock types of this small area. Ever since, I have seen geology as the most important influence on, not just our plants and animals, but also on where and how we live.
I have also edited and produced a geological conservation publication, Earth Heritage, and became involved with Rockwatch magazine over 10 years ago. The geology bug bit deep, because my daughter Kate has gained a degree in the subject from Durham.
Photo shows Seabury enjoying the limestone and igneous ranges of the Sierra de las Nieves in southern Spain.
John Crocker
Rockwatch Management Committee
---
Part of my Chemistry degree was a course in Geology. Ever since I have been fascinated by Geology – mainly rocks and minerals. It's great to go out into the field and collect specimens and 'read' the landscape. The picture shows me looking at a mineral at the Natural History Museum in London where I am a volunteer.