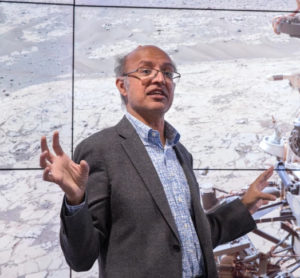 Rockwatchers may be interested in the Imperial College London's Children's Christmas Lecture which this year is being held online. The lecture will take place on Tuesday 8 December 2020 at 17.30 – 18.30.
Join Professor Sanjeev Gupta on a journey to Mars, to search for evidence of ancient extraterrestrial life! Find out how geologists use robots to explore the Red Planet and work out what the Martian landscape looked like early in our closest neighbour's history. Do rock records on Mars show that life was possible in the planet's ancient environments? How is evidence preserved in rocks on Mars? Join our Children's Christmas lecture to find out!
Sanjeev Gupta is Professor of Earth Sciences at Imperial College London. As a geologist he has spent much of his career studying sedimentary rock formations in various places including Egypt, the Sinai Peninsula and landscapes beneath the English Channel. In the last 10 years, he rotated his attention to exploring the geology of Mars. Sanjeev is a science team member on NASA's Mars Science Laboratory – the Curiosity rover – and on the Perseverance and Rosalind Franklin rover missions.
The lecture is aimed at 11-16 year olds and together with the Q&A session will last for one hour and it is free to attend.
You can share this link with your colleagues, students, friends and family so that they can register too. When you register, you will receive a confirmation email with details about how to join the lecture through GoToWebinar.