Issue 66 contents list: published March 2014
66-badlands-a-typical-days-collecting-from-the-flood-with-crocodile-teeth-on-the-lower-right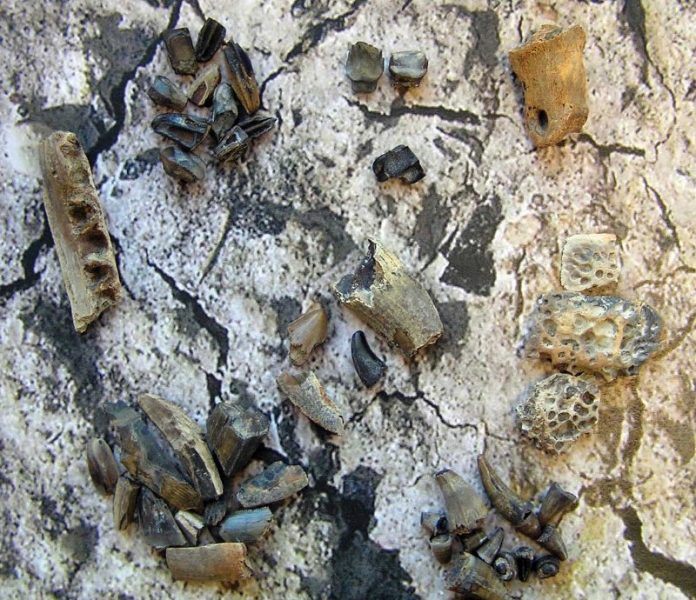 Issue 66 contents list:
ROCKWATCH EVENTS
Exciting new places to visit during the field trip season are highlighted in this issue. You can now follow us on Facebook and Twitter.
HOW TO DO FIELD WORK IN THE RAIN
Join Zoe Morland on her first ever geology field trip one very wet, windy and cold February to the Isle of Arran, a classic site for geology. We share Zoe's excitement of this geological wonderland, see pages of her note books, and learn from her experience how important a good cooked breakfast and waterproof socks are on a winter field trip!
SCULPTING BRINGS CREATURES BACK FROM THE DEAD
These days we often hear how art and science mesh to bring greater understanding to science and this article by Mats Eriksson gives us a fascinating insight into how this can work. He and artist colleague Esben Horn explain how they generate realistic sculptures of long extinct creatures from their fossil records.
FANTASY OR REALITY?
This amazing article by Susanna van Rose will cause you to see geology in all manner of different settings. Susanna was doing a jigsaw puzzle 'The Tower of Babel' by the Dutch Old master Pieter Breughel and wondered if the landscape had actually been seen by the artist or if he'd invented it. Follow Susanna's very careful analysis to share her conclusion.
VANISHING POINT – Rocks that aren't there any more!
Alan Holiday takes us to the eastern Mendips in Somerset to explore two classic geological sites, with a time gap (unconformity) of some 175 million years between two different rock types there. The sites are Tedbury Camp and Vallis Vale, where steeply dipping Carboniferous limestones are overlain by horizontal Mid-Jurassic limestones. The question that intrigues geologists is, 'what has happened to the sediments from the intervening 175 million years?' Alan explains all.
TERROR IN THE SKIES
Shocking event in Chelyabinsk as a meteor weighing some 11,000 tonnes exploded over the city
early in the morning. The meteor broke up as it entered Earth's atmosphere littering surrounding areas with meteorite fragments. These were fairly easy for people to spot as it happened in February when deep snow covered the ground. Graeme Poole explains all.
BADLANDS, GREAT FOSSILS
Jon Noad shares the secrets of two fossil rich sites in Alberta Canada that he's been visiting over the past 10 years or so. There are fossils galore here. The sites are only 8 km. apart but yield completely different fossil assemblages. Jon puts on his geodetective cap, and, using modern-day analogies, tries to work out why this is.
HOW A CHALK STREAM BECAME A TORRENT
If you live near a chalk valley, you may have seen similar events to the one Paul Rainey describes, where a very little, shallow stream at the bottom of a small chalk river valley, can become a raging torrent for some weeks in winter. Paul's article tells you why this happens, so next time you witness this you'll know just what is going on.