Issue 68 contents list: published December 2014
68-going-wild-about-fossils-for-cbbc-being-filmed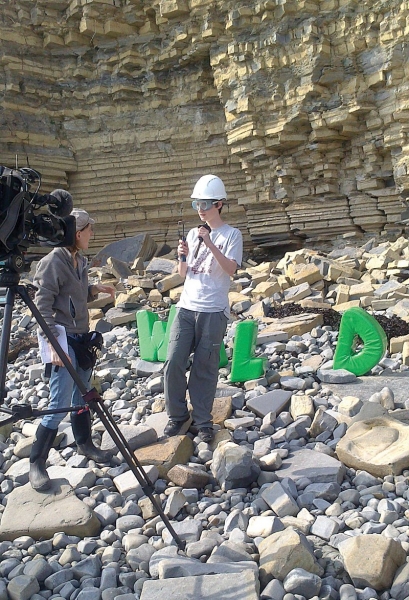 Issue 68 contents list:
ROCKWATCH EVENTS
See some of the exciting places Rockwatchers visited during the summer field trip season and share in the popularity of Rockwatch Family Fun days in museums and at Festivals of Geology around the country.
GOING WILD ABOUT FOSSILS FOR CBBC
Rockwatcher Philip Vixseboxse was selected by the BBC for its series "WILD", as a young person who was passionate about fossils. Read what an amazing two days of filming Philip had.
CHENGDU DELIGHT
Former Rockwatcher Edwin Rose gives a graphic account of the exciting visit he made to some superb World Heritage Sites in the Sichaun Province of China. His report will surely whet your appetite to make a similar visit once you've read it!
ROCKSTAR 2014
Meet our Rockstar 2014 and see some of the marvelous winning entries in this year's competition. Our Rockwatchers are most definitely a 'get up and do' group of amazingly active young people.
GEOLOGY ON THE STREETS
If you thought geology only mattered in the countryside, Alan Holiday's article is sure to change your mind. On a visit to the Trafford Centre in Manchester he found an extraordinary array of building stones from all over the world. But, he also notes that many towns and villages throughout the country are built of local stone dug from local quarries. Perhaps you've already spotted local stone buildings where you live, if not, this article can help you to find out more.
GORGEOUS LANGUEDOC
Peter Doyle's article on the gneiss Gorges d'Heric in the Languedoc region of France which he visited on a recent holiday explains how geology forms some of the magnificent landscapes of this area. It will also help you to amass skills and knowledge to interpret the geology of the areas you visit on holiday.
GEOLOGY IS MY TICKET TO TRAVEL
Geologist Jo Marshall tells us how family travels with her geologist father gave her the appetite for travel and how she ultimately became a geologist. She loves the outdoor life and the travel opportunities and the exotic food she is served. She even sees the positive side of having to learn new languages to make sure she knows what going on in foreign countries.
MAKING STONES SEEM HUMAN
As a dry-stone waller, Duncan Elliott learnt how to fit stones of all shapes and sizes together so the walls stayed up, so it's hardly surprising to find him now, working as a sculptor, to be making sculptures from bits of stone he finds lying around rather than chipping away at big blocks. Susanna van Rose talks to him to find out more.