Meet the Team
Meet the Rockwatch Management Team – a group of diverse, professionally qualified geologists and other experienced amateurs.
Watch the slideshow, drag the slider or click on the page icons to see more.
Wendy Kirk
Rockwatch Management Committee
---
I have worked in the Earth Sciences Department (formerly the Geology Department) at University College London since 1976.  Originally I worked as Curator of the many thousands of specimens of rocks, minerals and fossils in the Geology collections, and spent a number of years teaching in the classroom and in the field, collecting a PhD on the way.
I have co-authored the Field Guide to Rocks and Minerals of the World, published by Kingfisher/Larousse, and worked from time to time with Dorling Kindersley, Thunder Bay Press, and Scholastic.  More recent interests have included the geology of gravestones.
In my spare time, apart from geologising, I play accordion for a folk/ceilidh band, and saxophone for the Camden Light Orchestra along with a bit of tap dancing!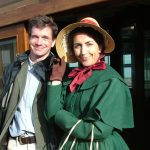 Jonathan Larwood
Rockwatch Management Committee
---
I could say I have geology in my blood; my father was a geologist and I have followed in his footsteps.
I studied geology in London, followed by Aberystwyth, which provided a world of geological contrast from the building stone trails, museums, and Crystal Palace dinosaurs of the city to the dramatic Palaeozoic cliffs and mountains of mid Wales.
I am a palaeontologist working with Natural England, a government organisation responsible for conserving some of England's most important geology.  That's when I met Mary Anning (see picture) when we celebrated the establishment of the Jurassic Coast World Heritage Site.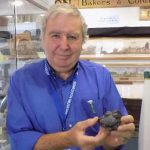 Roger Le Voir
Rockwatch Management Committee
---
I became interested in geology whilst at school and then, when living in Worcestershire, attended geology evening classes on the Malvern Hills. I went on to study with the Open University, concentrating on Earth Sciences, and after getting a degree worked as a part-time tutor for ten years.
Now I live in Devon and I am Sidmouth Museum's resident fossil expert and responsible for all things geological. In my photograph I am holding my favourite fossil – a rolled up trilobite from Morocco.
Michael Oates
Rockwatch Management Committee
---
I have been a rock and fossil enthusiast since primary school and followed this calling via batchelor and doctorate degrees in Geology from London University.
Employment as a geologist in the petroleum industry naturally followed as a new graduate and I thoroughly enjoyed this career, when no two days were alike and which enabled me to visit lots of unusual places worldwide, at someone else's expense.
In 2015 I became semi-retired, whereupon I established myself in a new house with huge museum potential and now spend most of my time sorting out my collection – some of which has not seen the light of day for 40 years or more!  I also arrange the Geologists' Association lecture programme each year, and have been involved with Rockwatch almost from the start – organising the occasional field excursion, and attending events to help out whenever possible.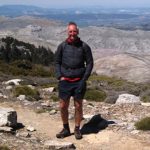 Seabury Salmon
Rockwatch Magazine Publisher
---
I spent years writing about nature conservation and wildlife and reporting on environmental projects in towns and cities.
While researching an article about The Lizard peninsula, Cornwall, I found the varied wildlife there was directly related to the soil and rock types of this small area. Ever since, I have seen geology as the most important influence on, not just our plants and animals, but also on where and how we live.
I have also edited and produced a geological conservation publication, Earth Heritage, and became involved with Rockwatch magazine over 10 years ago. The geology bug bit deep, because my daughter Kate has gained a degree in the subject from Durham.
Photo shows Seabury enjoying the limestone and igneous ranges of the Sierra de las Nieves in southern Spain.