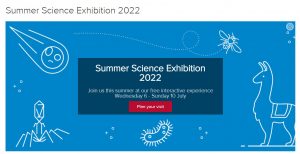 The Royal Society's Summer Science Exhibition 2022 which takes place from 6-10 July will appeal to many Rockwatchers, whether you are able to visit in person or online.
There will be a mix of fascinating talks and hands-on interactive sessions on a wide range of science topics. including how scientists are using everyday items from waste to replace oil and discover more about the first meteorite fall in the UK for 30 years.
There's a full programme on The Royal Society website to help you plan your visit.