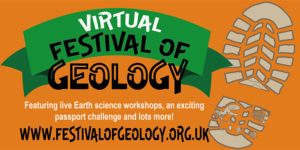 You're in for a treat if you join in with the activities taking place in the Rockwatch Discovery Room at this year's Virtual Festival of Geology! There's a whole weekend of fun planned for geology lovers and it's all FREE and can be enjoyed from the comfort of your own home!
The live festival may has finished but the fun doesn't stop there! You can still visit the festival site to explore all the resources. Recordings of the live talks will be made available to watch again soon too!
General Admission to the Festival & Discovery Room
This year's exciting Discovery Room will include a fascinating mix of Rockwatch activities, live Earth science themed workshops from the GeoBus and Hidden Horizons plus videos, downloads and more!
Take part in the 2020 Rockwatch Passport Challenge! Collect and correctly answer the questions featured throughout the festival to receive a certificate. Find out more about the Challenge here.
GeoBus Earthquake Building Challenge Live
Watch Now
Join Dr Amy Edgington with the GeoBus to discover what earthquakes can teach us about the Earth and how to create your own shake-proof building! For this workshop you will need: Pens, scissors, a cardboard box, sticky tape, spaghetti and marshmallows! This workshop was live on Zoom in the Rockwatch Discovery Room at the virtual Festival of Geology.
Chalking with Dinosaurs Live!
Watch Now
In a live "Chalking With Dinosaurs" event, palaeontologist Dr Liam Herringshaw of Hidden Horizons and the Yorkshire Fossil Festival explained how we try to make sense of fossil footprints, and how you can make your own dinosaur trackways in the comfort of your own home!
Optional equipment (3 different options):
1) If you are completely indoors: you will need pens, pencils, paper, card, scissors and tape measures/rulers to make your own paper/card footprints and/or trackways.
2)If you have access to a yard / driveway / pavement that can be chalked on, you only need pavement chalks and a tape measure
3) If you have access to sand or mud you can walk in, all you really need is a tape measure for your footprints and trackways