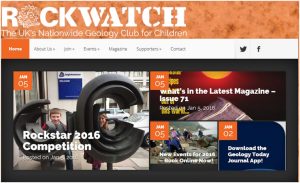 Rockwatch is delighted to launch it's new website – the official website for Rockwatch – the nationwide Geology club for children and young people.
As well as providing information about Rockwatch, the new website offers opportunities for people to join and renew their membership online for the first time.
It also enables members to book to come on Rockwatch events, including one-day and residential field trips, making it easier for members to get involved and enjoy geologising with other Rockwatch members.
Visitors can also sign up online to the Rockwatch mailing list and receive emails about forthcoming events and news.
Other features are in the pipeline but for now we hope you'll enjoy using the new site and its new features.